11:18 PM on Wednesday, February 17. 2010
Time's flow is a funny thing. Some changes happen so slowly that you don't even notice that it's taken place until you look over your shoulder at where you came from, and you realize that,
dude!
So much has changed!
Art is like that. Improvements happen every time I draw, and I
know
that, but it just is so hard to accept. I don't want to get better by
drawing
. I just want to draw and have it turn out well. Silly art! There's nothing to be done about it, though, unfortunately.
That said, it's all worth it when you stop to look backwards. I used to think I was a pretty good artist. A pretty darned good artist. I loved my art, and I thought it was annoying when people said anything bad about it. I had a lot to learn about being humble and receiving critiques graciously.
Then again, I still need to learn how to do that.
Today I finished my Ice Queen finally, and it was so nice to have her all finished. It's been quite a while since I did a digital piece, and I've forgotten how much I enjoy doing them. My trusty old Wacom Intuos1 is still working beautifully, and it amazes me to think that this little gadget is about nine years old.
Man, I'm so rambly today. I just can't stick with the point.
The point is that I did some art today and I realized that I did a somewhat similar piece of art 9 years ago, and that I should compare the two. For kicks and giggles. And to see the beauty of time.
First, a piece I think I called Fire Faery from around 2001 when I was... gosh, 16 or 17. I was a teeny bopper on Elfwood at the time, my favorite art gallery (and about the only one, in those days). I've since moved all my files to a new computer, so I lost my time stamp on the image so I'm not really certain when it's from, but it's about that time period.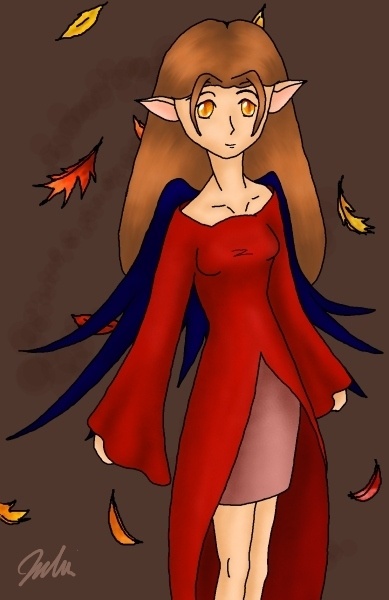 And now, my Ice Queen.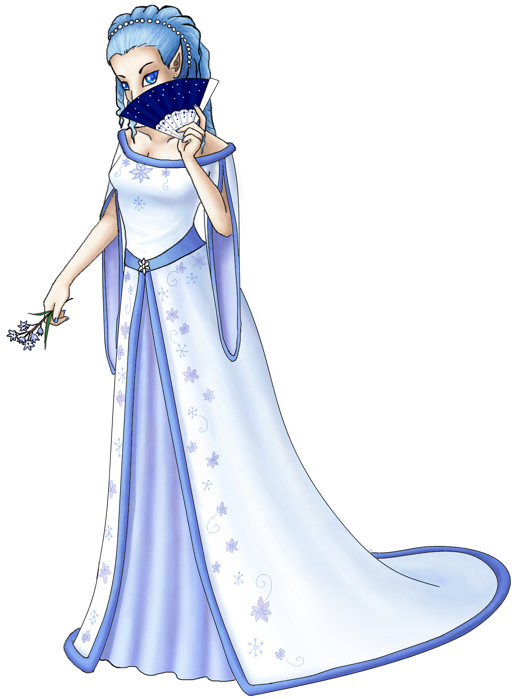 I'm awed. I know I'm not the best artist yet, that I still have a lot to learn, but... look at what I've learned so far. Look at how much I've grown. Anatomy, color, shading, style. It's inspiring to see my old art.
But also embarrassing.